Theme: New Emerging Drifts and Trends on Stroke and Neurological Disorders
Stroke Meet 2020
Dear Potential Researchers, Scientists, Industrialists & Students,
Join us for 3rd Annual Conference on Stroke and Neurological Disorders
Update your skills, Meet your academic heroes, Engage in high-level debates and refine your ideas enhance your knowledge base, and broaden your horizons, Visit a new place and have fun, - all in one place!
Date: December 07-08, 2020
Venue: Abu Dhabi, UAE
If you are interested to be a part of this event as a speaker or delegate!
Email at: [email protected]
Call at: 1-201-380-5561 (Extension No- 7007)
WhatsApp at: +44 7723584505
ME Conferences has overcome to report the initiation of "3rd Annual Conference on Stroke and Neurological Disorders" to be held on December 07-08, 2020 at Abu Dhabi, UAE
ME Conferences organizes a progression of gatherings of 1000+ worldwide Events inclusive of 1000+ Conferences, 500+ future and previous Symposiums and Workshops in the USA, Europe and Asia with help from a thousand extra logical social orders and distributes 700+ Open access Journals that contains more than 50000 prominent identities, recognized researchers as publication board individuals
This creative gathering talks about the headings of Neurological Disorders, Stroke with advanced Neuroscience in this quick moving and creating science and invention. Yearly Conference on Stroke and Neurological Disorders gives the extension chances to find out about most recent modernizations, therapeutic practices and principally centers around spreading the mindfulness about how to counteract stroke and neurological issue and different difficulties in the field of neuroscience.
WHY TO ATTEND?
STROKE MEET 2020 offers the best platform to study, inform and discuss new thoughts, current encounters, medicines, failures and issues related to neurological disorders as well as stroke. It is proceeded by knowledgeable, expert and practiced Neurologists, Neuroscientists, neuro health authorities, neurology nurses and hospitals, stroke consultants, neuro-researchers, neuro health care associates, pharmaceutical companies and a team of many other multidisciplinary authorities and medical device manufacturing company. Stroke Meet 2020 Conference goal is gathering universal experts and eminent people to share and discuss their novel ideas and research work so that it would be beneficial for patients suffering from stroke and neurological disorders. Stroke Meet 2020objective is to gather the audience from everywhere throughout the world to present current research and to broadcast the new trends in the field of stroke and neurology.
It will be a great platform for the young potential researchers and delegates to breakout sessions, highlighting clinical projects, education, and research studies and also to gain vast knowledge from the Discussion with the Neurologists.
We similarly respect the partnership of scientists, research scholars, surgeons, physicians, science faculty and more spectators, Presidents, CEO's, Delegates and Industrial administrators from Pharmacy and Health care divisions making the summit an ideal stage to arrange, share outlooks and information through interactive keynote, plenary, posters and B2B debates.
TARGET AUDIENCE
Neurologists

Neurosurgeons Pharmacists

Neurology Nurses

Specialists in neuroscience medicine

Academic Professionals

Research Scholars

Pharmaceutical Companies

Primary care doctors

Primary care professionals

Nurses

Students

Associations and Societies

Physicians and Faculty

Medical Colleges

Neurorehabilitation Physicians

Training Institutes

Manufacturing Medical Devices Companies

Hospital Administrators

Hospital General Counsel

Business Delegates

Neurology Faculty and Students
Importance

and Scope:
The global neurobiology market size was valued at USD 28.42 billion in 2016 and is predicted to grow at a CAGR of 3.1% over the forecast amount. High influencing aspects, like current brain recording investigation and investigation comes, neuroscience-based initiatives by management bodies, and technological advances in tools and algorithms that are required in neurobiology. These factors are anticipated to bolster revenue generation by encouragement the merchandise adoption during this market throughout the forecast year.
Presence of organizations & institutes, such as NIH, NeuroScience Canada, University of Utah, Max Planck Florida Institute, Ontario Brain Institute, and the University of Pennsylvania; in the space are expected to majorly impact the development of neuroscience arena. These entities play a vital role in fast neuroscience-based analysis and advance to boost patient outcomes in those full of medicine disorders.
Numerous steps are undertaken by the aid communities to require brain-related studies and innovations a step additional. For example, in 2014, University of Utah launched the "Neuroscience Initiative" in order to help alleviate the devastating effects of brain disorders. The initiative was created for extending the understanding of the significances of brain disorders on health and channelizing the information into advanced solutions for patient care. Constant summary of novel merchandise by key participants within the market to combat varied medicine disorders is predicted to spice up Y-O-Y growth of this market.
For example, in September 2015, Codman Neuro announced CODMAN CERTAS plus programmable valve, an MRI-resistant programmable valve with eight different pressure settings. This product was introduced hydrocephalus treatment. Furthermore, key factor that has accelerated the research studies in this arena is the growth in number of various malignant CNS disorders such as Parkinsonism and Alzheimer's disease. As geriatric population is liable to varied central nervous systems associated disorders like schizophrenic disorder, Alzheimer's, and Parkinsonism, with growth in older population, this market is anticipated to witness lucrative growth.
Neurology Hospitals in UAE
Asala Medical Center

Berlin Medical and Neurological Rehabilitation

Neuro Spinal Hospital

American Center for Psychiatry & Neurology

Burjeel Neuro Rehabilitation and Physiotherapy Center

August Medical cereneo Center for Neurological Rehabilitation

German Neuroscience Center

American Center Psychiatry and Neurology

German Neuroscience Center
Age Factor in Stroke:
Associations and societies in Dubai
Emirates Neurology Society

Emirates Medical Association

The Middle East North Africa Stroke Organization

Shaikh Khalifa Stroke Institute

Child Neurology Association (ICNA)
Associations and societies in UAE
Association for Infant Mental Health

National Association for Mental Health

The brain & behavior research foundation

Migraine Trust

The Brain injury association

The Neuro Association
Associations and societies worldwide:
World Federation of Neurology

Association of Neurological Surgeons

European Federation of Neurological Societies

The International Child Neurology Association

Education in child neurology: the role of the International

Child neurology services in Africa

Neuropathy Association

Alzheimer's Association

American Academy of Neurology

European Neurological Societies

Spanish Society of Neurology

Major Neurological Associations in Italy

Hilarescere Foundation in Italy

Italian MS society in Italy

Southern Clinical Neurological Society

ESNR European Society of Neuroradiology

The British Neuropsychiatry association

British Neuroscience Association

British Neuro-oncology Society

Brain Injury Association of London

Stroke Association

Brain Injury Rehabilitation Trust

Royal Society of London

Alzheimer's Society

International Headache Society

Huntington's disease Association

Brain tumor organizations

National Brain Tumor Society

British neuroscience association

British brain tumor association

Scottish Association for Mental Health
Market Growth of Neuroscience:
The global neuroscience market size was valued at USD 28.42 billion in 2016 and is expected to grow at a CAGR of 3.1% over the forecast period. High influencing factors, such as on-going brain mapping research and investigation projects, neuroscience-based initiatives by government bodies, and technological advances in tools and algorithms that are implemented in neuroscience space, are expected to propel the market growth.
Neuroscience Market size by technology 2012-2020 (USD Million)
Universities associated with Neurology and Neurosurgery in Dubai
King Saud University

United Arab Emirates University

King Abdulaziz University

Ain Shams University

Alfaisal University

Middlesex University
Universities associated with Neurology and Neurosurgery in UAE
Gulf Medical University

RAK Medical & Health Sciences University

Mohammed Bin Rashid University of Medicine

College of Medicine University of Sharjah

NYU Abu Dhabi

Zayed Universities

Kuwait University

New York University Abu Dhabi

University of Sharjah

Abu Dhabi University
Universities associated with Neurology and Neurosurgery Worldwide:
Stanford University

University of California

University of South Carolina Beauport

University of Helsinki

California Institute of Technology

Yale University

Harvard University

University of Pennsylvania

University of Chicago

The Kavli Institute for Brain Science

Cornell University

Dalhousie University

Leiden University- Neither land

Temple University USA

University Oklahoma

Boston Coll USA

Florida International University

American University of Beirut

Mansoura University

Assiut University

University of Edinburgh

University of Manchester

Cardiff University

University of Vermont

University of Amsterdam

Ghent University

Maastricht University

University of Melbourne

University of Queensland

University of New South Wales

University of Adelaide

University of Sydney

United Arab Emirates University

German Neuroscience Center
Who to attend:
Neurophysiologists, Neurologists, Paediatric Neurologists, Neurosurgeons, physiatrists, Research scientists, Neurology Organizations, and Epileptologists Pharmaceutical companies, Neuro and CNS drug Industries, Neuroscience associations, Neuroscience foundations, neuroradiologists, Professors, Students from Academia in the study of Neurology and Neurophysiology and researchers who utilize neurophysiological techniques and also knowledge in diagnosing and in treating nervous system disorders, social workers.
Why to attend?
Neuology and Therapeutics is a unique forum to bring together worldwide distinguished academics in the field of neuroscience and neurology, Brain researchers, public health professionals, scientists, academic scientists, industry researchers, scholars to exchange about state of the art research and technologies.Aim of this conference is stimulate new ideas for treatment that will be beneficial across the spectrum of Brain disorders.
Global Market Analysis of Stroke and Neurological Disorders:
The market analysis of stroke and neurology represent the largest and untapped market in medicine sector. This estimated market analysis is based on probability of approval and sales of products in late stage development, demographic trends and marketing of product. Emerging markets once again helps to boost revenues. CNS therapeutics comprise approximately 15% of total pharmaceutical sales, nearly $30 billion worldwide.
An estimated annual economic costs of anxiety disorders, depression, and schizophrenia are $47 billion, $44 billion, and $33 billion per year approximately. The goal of this session is to understand the market Value & Growth of Neurology Drugs , Current economics cost of clinical research and development.
Fig: Global analysis of stroke and neurological disorders.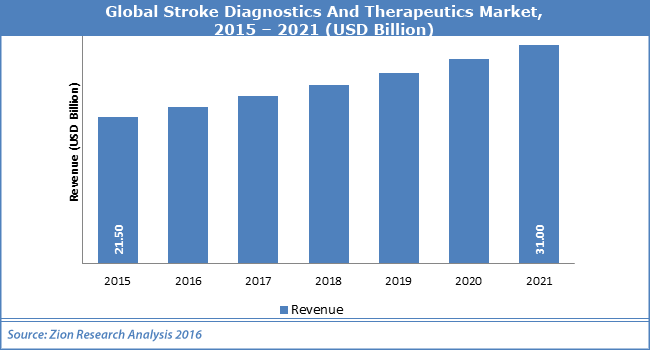 To share your views and research, please click here to register for the Conference.
To Collaborate Scientific Professionals around the World
Special Issues
All accepted abstracts will be published in respective Our International Journals.
Abstracts will be provided with Digital Object Identifier by